There are workrooms in the buildings of computer science and mathematics that can be used by all students of both departments. After requesting access, you can open the respective doors with your student ID. If you want to get access, just use the form at the bottom of the page.
Rooms and Opening Hours
You can use the following rooms. All buildings are open to everyone Monday to Friday until 8pm. After 8pm and on Saturdays you may only use the entrance door of E1.3 (next to iCoffee). The buildings are closed on Sundays and during the winter holidays.
Opening Hours
Rooms
Mon-Fri
Sat
work rooms in E1.3
row style seating: 013, 103
group tables: 105, 106
07-23
09-16
computer room in E1.3
104
07-20
–
work room in E2.4
row style seating: 007
group tables: 008
07-23
–
Additionally you can use the seminar rooms in E1.3 (014, 015, 016, 107) from Monday to Friday, if there are no tutorials (see schedule).
Request Room Access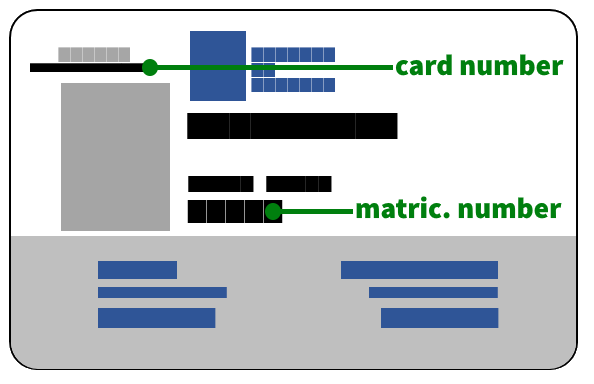 If you want to get access to the workspaces, just fill out the form below or send an email to operator@studcs.uni-saarland.de containing the same information. Processing takes about a week.
Refer to the image to find your matriculation and card number.