Every year in October the students' council prepares an introductory event called StEP for new students to help you stay at Saarland University.
Master StEP 2019
This year StEP introductory event for Master students will be on 11th, 15th and 16th of October. The Master StEP wants to be in English. You may find the detailed schedule below.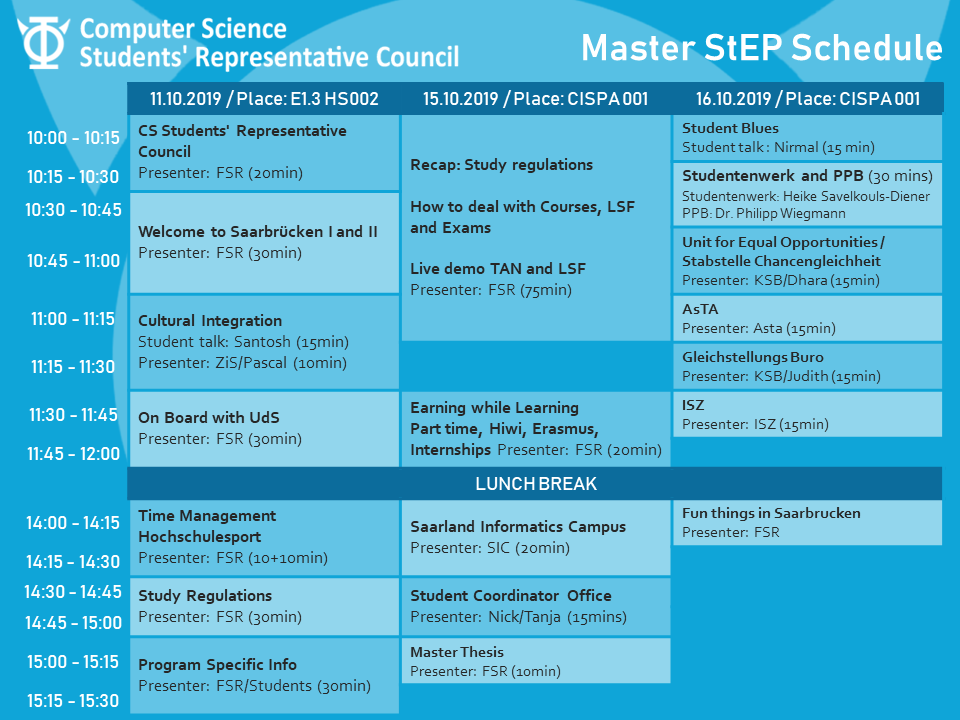 If you are interested please register here . It helps us plan and reserve the needed rooms and materials.
We want to tell you everything you need about your new university, its structure, the support institutions and amenities, how to get around in Saarbrücken and -if you just arrived from abroad- some quick start tips for Germany.
Note that this event differs from the introductory event by Dr. Breinig and Dean Hack, we want focus less on university regulations and more on getting everything else on the campus and Saarbrücken in general. We want to make the start at your new university as comfortable as possible.
The Master StEP will be held in 3 phases:-
11th October : a holistic view of Saarbrücken, UdS and SIC, cultural integration
15th October : Everything about studying in UdS – Courses, exams, research groups and funding your education
16th October : Finding help at UdS, Recreation
If you have any questions mail us .
Bachelor StEP 2019
The Bachelor StEP wants to be told in German. For more information and dates see the German version of this page.